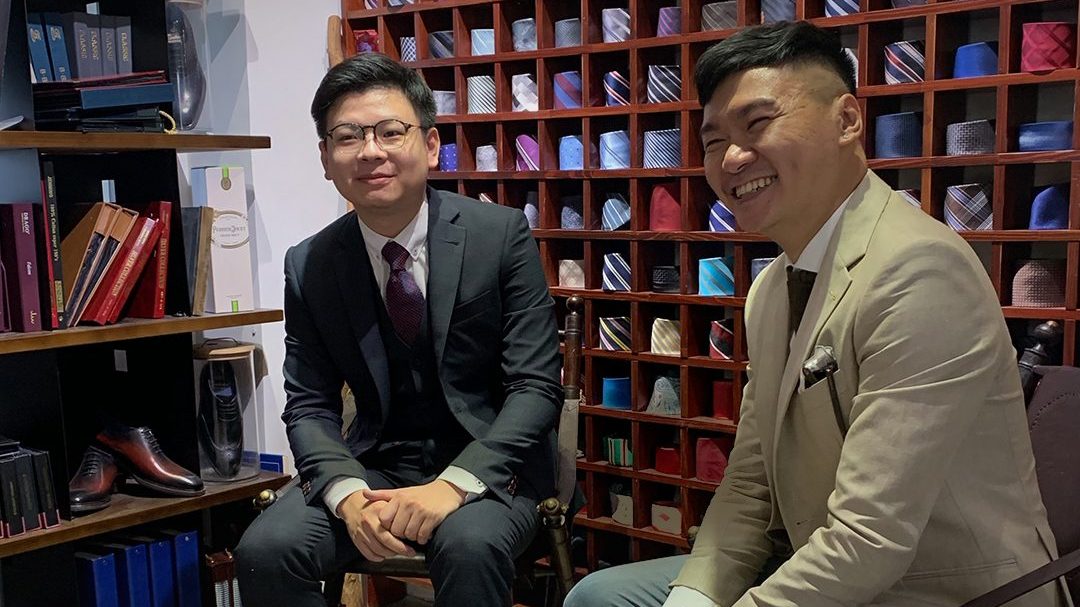 Look up from the bustling Yun Ping Road and you'll see a tailor shop dripping with English flavours. Step inside the building and follow the winding stairs to find a copper door handle; and within you'd spot an antique gramophone, a wall of ties and fabrics and an English-style cabinet in the middle. Don't be mistaken: this is not the Kingsman's tailor shop, but Costume Suit Studio.
Personal Style is born from a Personal Tailor
The saying goes: "clothes make the man". A good suit is reflective of both personal taste and our attitude towards life. Costume Suit Studio co-founder Edward thinks suits need not go with the trend, but should complement the wearer's body type and shape. "Traditional British suits were born from military uniforms that usually flow past the hips. But since this cutting may not be suitable for Asians, we will make adjustments according to our customers' body shapes without compromising this traditional craft and structure of the suit." As for the trend of vintage suits, Edward says the key is to strike balance between old and new: "suits must be tailored to the man's face and body shapes. A young and vibrant man may contrast well against a more vintage-looking, looser fit, but on an old man, this fitting may make him look too mature. Meanwhile, a bright or paler-coloured suit can offer another fashion statement." Aside from suits in a plethora of colours, the shop also features ties and leather goods for the more detail-oriented fashionistas.



It's all in the details

Unlike day-to-day garments, suits are laced with personal stories: for example, the first suit may be bought for a presentation or interview in college or for celebrating milestones like promotions, the beginning of a family, and more. Every man must have a suit tailored just for him. Many of us have had the experience of purchasing ready-to-wear suits: while efficient, they often only cater to certain body shapes and neglect details, making them ill-fitting and poorly shaped. So for those new to tailoring, Edward suggests clients to do their research by talking to different tailors around town.
"Every tailor has a different take on the craft, but we all welcome customers' participation. Only through communication could we pair the customer's background, preferences, career and hobbies with our creative strokes; communication is also the foundation of trust. So a lot of our creative process involves dialogue: this is our biggest difference from ready-to-wear shops, this human touch."
Ideal Location for an Ideal Lifestyle
As a bespoke tailor shop, Costume Suit Studio prizes communication, explaining Edward's choice of address. "When you think Causeway Bay, you think core of Hong Kong. And Lee Gardens certainly offers respite in this bustling neighbourhood. Tailor shops demand a certain amount of space so our clients feel at home; and a shop above-ground means more flexible operation times that can cater to our clients' after-work hours. We chose Lee Gardens for its refinedness: our shop, for instance, has a balcony for our guests to enjoy cigars whilst getting a tailored suit. What a life!"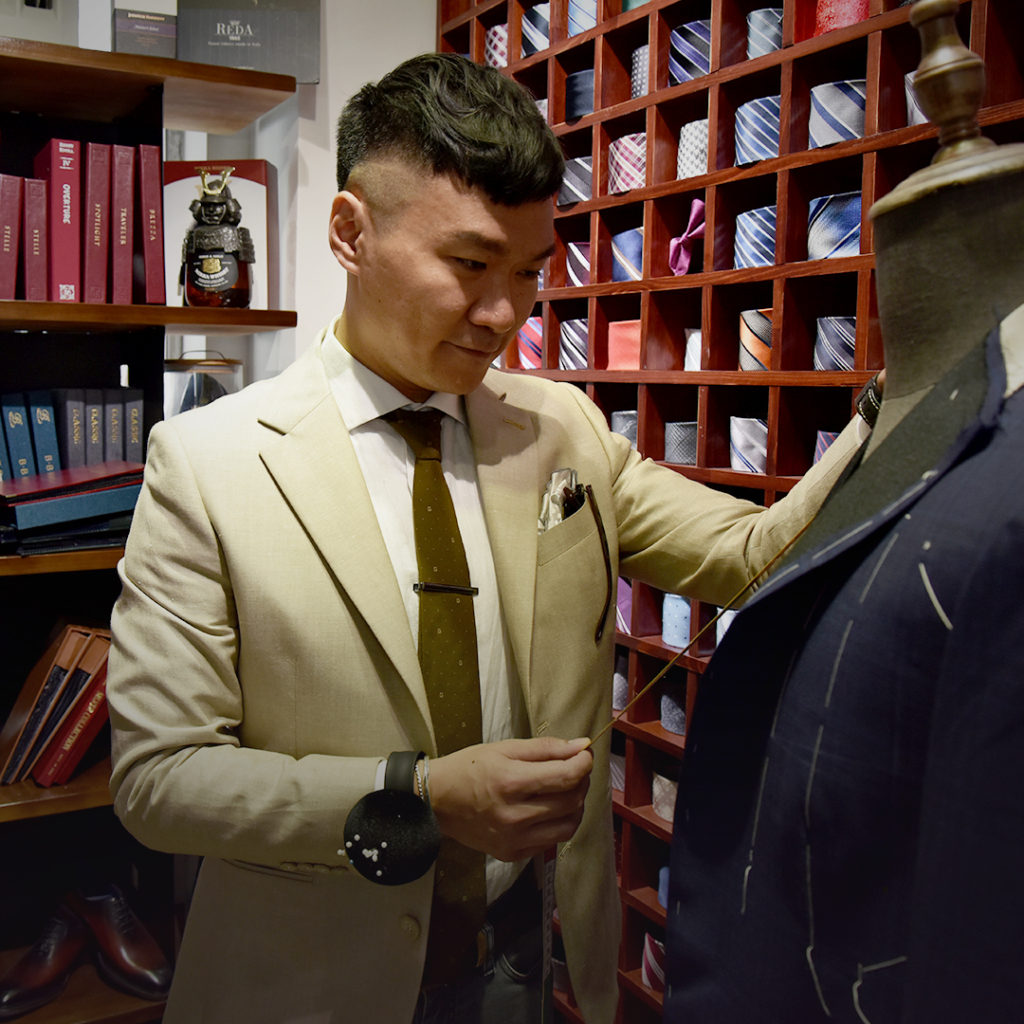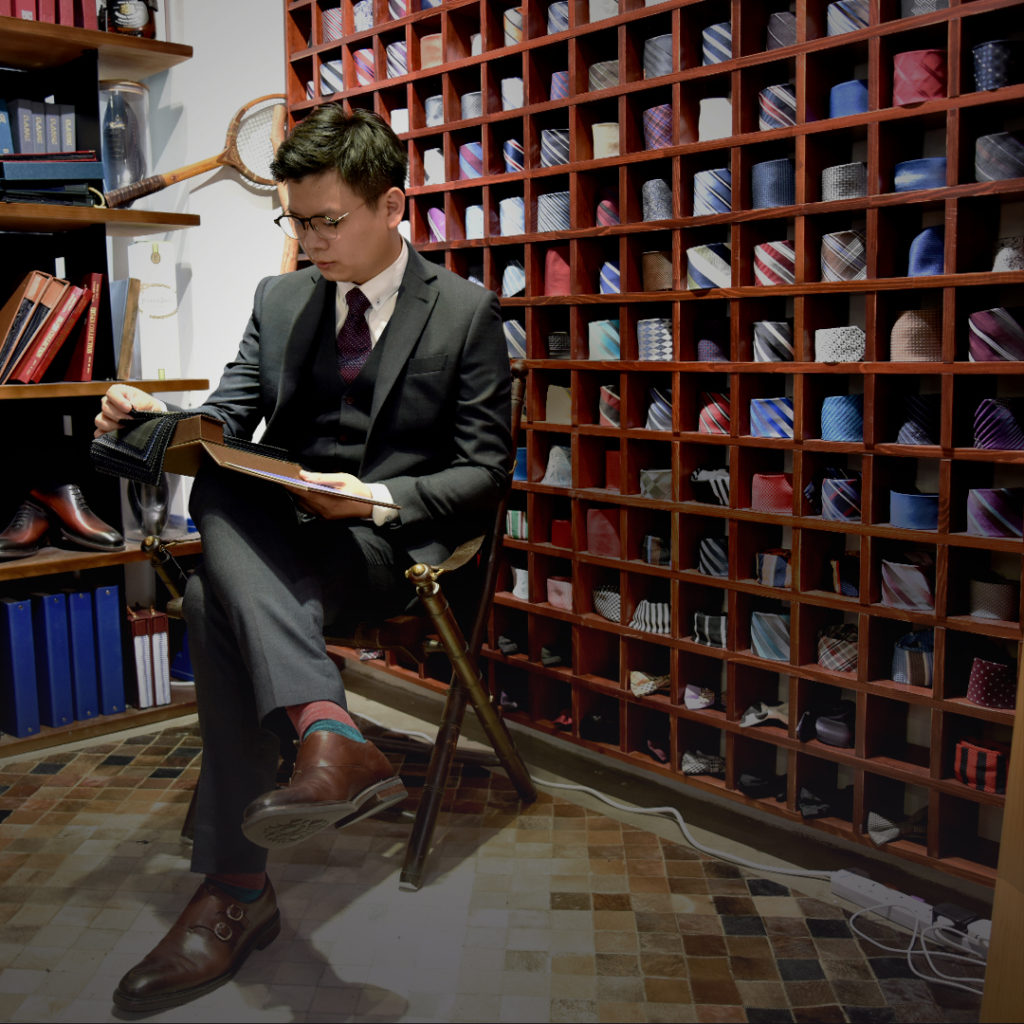 Persistence for Quality for a Promise of a Lifetime
The tailoring business has changed over time. "You'll find that bespoke tailoring is serving a younger audience nowadays," says Edward. "In the old days, cuts tend to be looser fit so the suits will last for three to five years. We no longer think these cuts meet our client's needs; so instead, we've offered an 180-day size maintenance service to not only give our customers confidence, but is also testament to our confidence in our creations."
The Legacy Lives On
A number of tailor shops are inherited from generations prior. Likewise, Costume Suit Studio was passed down from the father of Edward's partner. "Tailoring knowledge doesn't come by easily for the everyday man. Our business was a workshop founded by my partner's dad in 1979. He spent his childhood around tailors and has long started to brainstorm how to attract young people to this industry and spread the gospel of bespoke suits as a proud Hong Kong-made brand."
Costume Suit Studio: 1/F, 17 Yun Ping Road, Causeway Bay